Technophobia typically describes a fear of uncontrolled technology. In the case of ChatGPT and its equivalents, it represents a subtly different kind of anxiety, that of a potential threat to one's livelihood.
Basically, if chatbots can be charged with writing articles, why pay humans to do it?
RISE OF THE MACHINES
Artificial intelligence (AI) doesn't require a carrot or a stick, refreshments, toilet breaks, maternity or paternity leave or holidays. It won't take sick days, ask for a pay rise or go on strike, and it won't suffer from writer's block. And therein lies the seeds of this brand of technophobia; the gig is up – how can we mere flesh-and-blood beings compete with something so indefatigable?
ALLY NOT ADVERSARY
AI, like any technology, works best when it's harnessed to help humankind. As such we should look kindly on it, think of it as a series of zeroes and ones with a friendly face, perhaps. It's there to do our bidding and, since we're in the business of generating content that's designed to engage, it makes sense to make the most of its positive attributes.
SPEED OF THOUGHT
There was once a writer called Barbara Blackburn who could type up to 212 words per minute. Her output was sustainable at 170 words per minute, which means this was about the fastest she was able to type while ensuring next to no typographical errors. And this is without taking into account the value or viability of the content.
The very thing that can make an AI chatbot seem like a threat is its ability to work quickly (and seemingly accurately). There's not a human being on the planet who's able to keep up. Even Ms Blackburn at the peak of her powers would've had to concede defeat – because, at the time of typing, ChatGPT is capable of 'writing' more than 900 words per minute. 
So, rather than rail against its existence, why not work with it? Or rather, allow it to work for us? After all, it's a tool, and a very useful one, and since Chat GPT can enhance the writing process, it seems churlish not to let it do its thing.
INTELLIGENT BUT IMPRECISE
ChatGPT is capable of generating persuasive copy, even if the results don't necessarily hold up to scrutiny. Until the technology is improved, inherent flaws will remain.
AI writing is merely a regurgitation of content that already exists, initially created by the tapping of human fingers on keyboards. (That said, humans are more than capable of coming up with poorly written work. Not everyone has it in them to turn out compelling and pithy text.) 
FONT OF ALL KNOWLEDGE?
ChatGPT possesses a huge knowledge base because it has instant access to the internet: news items, scientific journals, Wikipedia, transcripts and the like. This is a major asset to a writer, especially since none of us is able to trawl the internet, and produce work based on our findings, in a matter of minutes if not seconds.
As human writers, we have the ability to make judgement calls which affect and shape our writing. We're able to fact-check our work using up-to-the-minute data. When asked about its ability to fact-check, ChatGPT replied, "…my responses are based on pre-existing knowledge up until September 2021, and I don't have real-time access to the internet or the ability to verify current events."
While an enormous amount of information is available to it, and this shouldn't be underestimated, ChatGPT is unable to utilise any data from the last 18 months, which is something of a flaw.
After all, a lot has happened since September 2021: Russia's incursion into Ukraine, the lifting of Covid restrictions, the cost of living crisis, the resignation of two UK prime ministers, the death of the Queen, England's failure to advance beyond the World Cup quarter finals, Chris Rock being punched by Will Smith at the Oscars… The list goes on.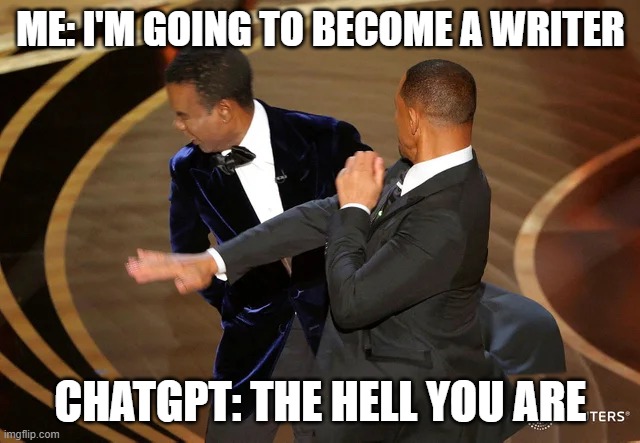 In terms of up-to-date information, there's little point relying on ChatGPT – but for anything that occurred before the cut-off date, it's a different matter entirely. 
At the very least, AI-generated content gives copywriters something to work with.
And let's not forget the valuable services provided by a good proofreader and/or editor, who adds another level of fact-checking and enhancement.
COPYWRITING: HOW I LEARNED TO STOP WORRYING AND LOVE THE CHATBOT
ChatGPT is ingenious, but it's a resource; no more, no less – and one that we would be foolhardy not to exploit. 
So, relax, embrace this new technology: allow AI chatbot-generated writing to complement and even enhance the kind of content that only an actual copywriter can create.
Fancy a quick chat about how real copywriters and the latest artificial intelligence tools can work together to help your business? Get in touch with a member of the team at Minerva Creative today. We'll be happy to discuss your needs and help generate the content you need going forward.